Conner Kempe
Position
QB
Height
6-4
Weight
210
40 speed
4.8
School
The Benjamin School
Hometown
Tequesta, FL
Incoming Year
2008
Offered By
Miami, Virginia, Stanford, Purdue, Iowa, Auburn, Western Michigan, Kansas State and Iowa State
Initially posted by NickSkin on 05/04/07 at 12:07 pm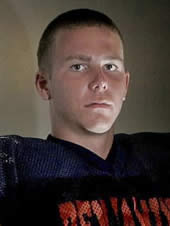 2008 PROSPECT: Expect Connor to be one of the top QB prospects nationally in 2008. The Tequesta (Fla.) North Palm Beach Benjamin pro-style quarterback was considered one of the top quarterbacks in the country before he was injured in a kite-surfing accident last November. Eager to prove he is back to form, Kempe has been one of the most visited players during the evaluation period. The offers are starting to roll in. Will UVa be next?Kempe plays for The Benjamin School, a 1A school in Palm Beach County. Its early but Connor already has a Miami offer as well as offers from Big Ten, PAC10, SEC and ACC schools. Kempe through for over 2100 yards and 17 TD's as a Junior. Schools Recruiting: Miami, Stanford, Purdue, Iowa, Auburn, WMU, Georgia Tech, Kentucky, Indiana, Central Florida, FAU, Colorado, Florida State, Florida, Vanderbilt Kansas State, Iowa State, Virginia and Ivy League schools Unofficial Visits June 28, 2007 $cout Profile ** Rival$ Profile *** Rival$ #23 Pro Rated QB Rival$ #74 in Florida Top-100 (6.17.07) Video Top33 QB by Jim Stefani Max Emfinger's #7 Dropback QB The Benjamin School Website ESPN.com Insider ESPN 150 Watch List ESPN.com Evaluation:
Kempe is a pocket passer with with prototypical size and outstanding arm strength. In fact, his arm is his most impressive asset as he is capable of making any throw on the field. A classic dropback guy that is a much better athlete than he gets credit for. He has great size and the height to scan the field effectively from the pocket. Plays in a pro-style scheme with a heavy dose of play action to take advantage of his arm in the vertical passing game. He has a quick drop and a quick delivery. He shows powerful zip on the deep out and the velocity to fit the ball into tight spots downfield. Can throw across his body and get the ball deep when on the move. He is quicker than fast. Buys some second chances in the pocket. Squares shoulders well and can throw on the run. Understands timing, can be very accurate and flashes the ability to hit the receiver in-stride. Stays patient in the pocket, but has enough initial quickness to move around and buy some time. Is a tough runner and will lower his shoulder for extra yards. He is not a scrambler by any means. He must improve his touch and overall accuracy. Throws the ball extremely hard, must learn to change ball speeds. Shows sloppy footwork and this affects his accuracy. Overall, Kempe has all the tools to become a very good passer at the next level and coaches will love at his arm and surprising athleticism. Recruitment should pick up his senior year.
05/21/07
Posted by NickSkin at 9:12 am
South Carolina also interested in Connor. So says The State.com
06/26/07
Posted by NickSkin at 7:46 am
Connor recently participated in the EA SPORTS Elite 11 QB Regional Camp in Las Vegas and did very well and Iowa State and Kansas State tendered offers.
07/04/07
Posted by NickSkin at 8:32 am
$cout 7.3.07 "Kempe Looks for Balance, Interested in Miami
Terrific article about Conner and his interest in Miami
09/27/07
Posted by NickSkin at 9:23 am
Conner Kempe to Dartmouth
Know someone who would like to learn more about this recruit? Send them a link!